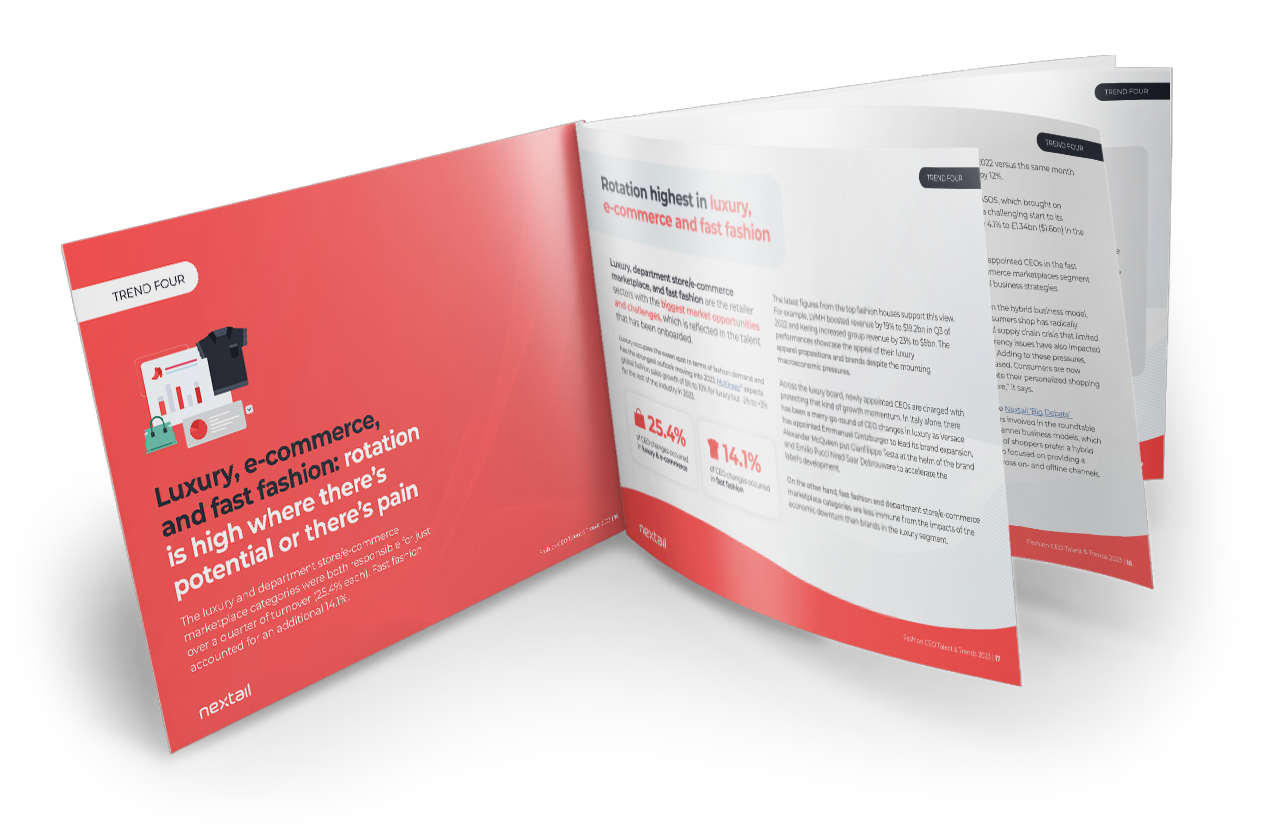 Download the report for the latest fashion leader insights
The 70+ newest CEOs and top 5 talent trends in 2023
Skill sets and experience needed to make it in the boardroom
Why luxury, e-commerce and fast fashion are seeing the most changes
A new brand of CEO has emerged:
the ambidextrous fashion leader
Both explorative and exploitative enough to weather today's challenges and grab up at new opportunities, the Nextail 2023 CEO study found that today's fashion leaders are 17.3% more likely to be schooled in supply chain than predecessors, and 33.6% more likely to be analytical and digitally driven than the CEOs they've replaced.
Each year, the Nextail Fashion CEO Talent & Trends Report dives deep into CEO changes in major fashion brands across North America and Europe - giving a sneak peek at industry trends and what we can look forward to from those shaping the future of retail.
Fashion companies have experienced a seismic shift in recent years, with over 70 CEO changes happening between 2022 and 2023 alone. The "Inside the mind of the new Fashion CEO: 2023 Talent & Trends" report found that while having retail operations experience was highly sought after - accounting for an impressive 70.3% of appointments - close behind was analytical and digital expertise at 56.8%.
Charged with steering their brands in the face of mounting market uncertainty and innovating to reveal new growth opportunities, this is how the CEO changes of 2022 compare to years past:


Incoming CEOs have 37.3% more retail operations experience than their predecessors and more than any of the incoming cohorts studied by Nextail (+48.3% on 2021, +55.8% on 2020 and +19.2% on 2019) and 17.7% more supply chain experience versus outgoing CEOs
Incoming CEOs bring 33.6% more analytical and digital experience than their predecessors and more than any of the incoming cohorts studied by Nextail (+3.1% on 2021, +1.6% on 2020, and +11.4% on 2019). In addition, 12.9% of new CEOs have CMO experience, an 80% surge over predecessors

"Digital transformation" is the top reason for CEO turnover, accounting for 27.4% of new hires in 2022 and up from 26.8% in 2021, but has a new focus - operational excellence


The luxury and department store/ecommerce marketplace categories were both responsible for just over a quarter of turnover (25.4% each). Fast fashion accounted for an additional 14.1%


31.4% of the incoming cohort were women, which is 21.9% more than the number of female CEOs exiting fashion companies in 2022. Additionally, 17.4% of cases saw females replacing outgoing males versus 10.1% of males replacing females.


In 2022, CEOs from major brands such as Adidas, Gap Inc., Under Armour, and more stepped away from their posts. Regardless of the motive for turnover, top-level changes present opportunities to reconsider and realign CEO experience with current and future needs, and even look beyond traditional profiles. What's clear is that a new CEO is on the rise. The business priorities that these talent choices reflect are what the Nextail study uncovers.